INTRODUCTION:
Established at Finance Act 1994
Service tax is a tax levied by Central Government of India on services provided or to be provided excluding services covered under negative list and considering the Place of Provision of Services Rules, 2012 and collected as per Point of Taxation Rules, 2011 from the person liable to pay service tax.
Person liable to pay service tax is governed by Service Tax Rules, 1994 he may be service provider or service receiver or any other person made so liable
From 15 November 2015, the effective rate of service tax plus Swachh Bharat Cess, post introduction of Swachh Bharat Cess, will be 14.5%.
SMALL SCALE EXEMPTION:
Service tax is only liable to be paid in case the total value of the service provided during the financial year is more than 10 lakh .
If the value of services provided during a financial year is less than 10 lakh , it is optional for he wants to avail this exemption or not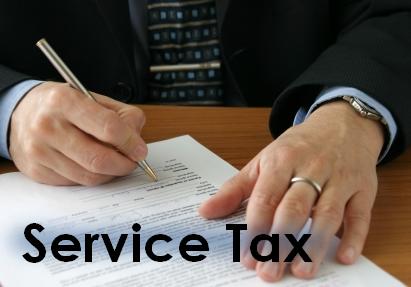 RATES:
While presenting the 2015 Union budget of India, the FM had increased the Service Tax Rate from 12.36% to 14%. This new rate of Service Tax @ 14% was applicable from 1st June 2015. Moreover from 15th Nov 2015, Swachh Bharat Cess @ 0.5% also got applicable.
Therefore the effective rate of Service Tax is currently at 14.5% with effect from 15th Nov 2015.[2] 2016 Union budget of India has proposed to impose a Cess, called the Krishi Kalyan Cess, @ 0.5% on all taxable services effective from 1 June 2016. The new effective service tax could henceforth be 15%
SERVICE TAX RETURN,RECORDS&INVOICES:
Records
According to Rule 5 of Service Tax Rules, 1994, records include computerized data and means the record as maintained by an assessee in accordance with the various laws in force from time to time. Records maintained as such shall be acceptable to Central Excise Officer. Every assessee is required to furnish to the Central Excise Officer at the time of filing his return for the first time a list of all accounts maintained by the assessee in relation to Service Tax including memoranda received from his branch offices. This intimation may be sent along with a covering letter while filing the service tax return for the first time
Invoice
Rule 4A prescribes that taxable services shall be provided and input credit shall be distributed only on the basis of a bill, invoice or challan. Such bill, invoice or challan will also include documents used by service providers of banking services (such as pay-in-slip, debit credit advice etc.) and consignment note issued by goods transport agencies. Rule 4B provides for issuance of a consignment note to a customer by the service provider in respect of goods transport booking services.
DOCUMENTS REQUIRED FOR FILING SERVICE TAX :
Proprietorship
PAN Card
Rental Agreement
EB Card
Last Month EB Bill
Address Proof (Driving License/ Voter ID/ Aadhar Card)
One Photo
Bank Statement
Partnership Firm
PAN Card for both the Partners
Rental Agreement
EB Card
Last Month EB Bill
Address Proof for both the partners (Driving License/ Voter ID/ Aadhar Card)
One Photo for both the Partners
Bank Statement or Passbook copy for both the Partners
Partnership Deed
Company Bank Statement
Private Limited
1. PAN Card for both the Company & Director
2. Rental Agreement
3. EB Card
4. Last Month EB Bill
5. Address Proof for both the director(Driving License/ Voter ID/ Aadhar Card)
6. One Photo for both the director
7. Bank Statement or Passbook copy for both the company & director
8. Incorporation Certificate
9. MOA & AOA
10. Company Authorized Seal
DUE DATE FOR FILING TAXES :